Time & Place
Cost
150
Where
131 Daniel Webster Highway #712, Nashua NH, 03060
When
2013-02-15 - 9:30am till 4:30pm
2013-03-15 - 9:30am till 4:30pm
2013-04-16 - 9:30am till 4:30pm
2013-05-15 - 9:30am till 4:30pm
2013-06-14 - 9:30am till 4:30pm
2013-07-16 - 9:30am till 4:30pm
2013-08-15 - 9:30am till 4:30pm
2013-10-15 - 9:30am till 4:30pm
2013-11-15 - 9:30am till 4:30pm
2013-12-17 - 9:30am till 4:30pm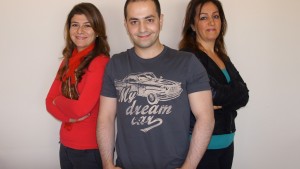 Event Details
Learn how to manage your business information, how to build loyalty and positive reputation with review, increasw sales and attracte attention to your business.
Each month Ayna experts train business owners on best practices used by sucssesful retailers and service providers to boost sales and loyalty. Our sessions include the following:
Learn how to build your social network and communicate to Facebook, LinkedIn, Twitter and Plurk from Launchpad.
Learn how to use printed ad, in-store signage, and product tags conncted via QR to increase loyalty and sales.
Learn how to maintain a professional looking site with Punto.
Learn how to manage and market your events, products, services and deals on the Internet fro one place.
Learn how to integrate SMS in to increase repeat visits of customers.
As part of Ayna business services, this training is available ONLY to Punto and Galleria customers.
Training Daily Schedule
9:00am-9:30am Welcome, meet and greet
9:30am-11:59am Social Media and SMS- What is it, how it works. Setup your Launchpad, communicating with Launchpad.
12:00-1:00pm Lunch break
1:00pm-3:00pm How to tie print media and in-store presence with Punto using QRs. Techniques to increase loyalty and sales.
3:00pm-4:30 Individual assistance to setup your Punto with the new features or Q&A session.
Share Event