SMEs With Strong Web Presence Grew More Than Twice as Quickly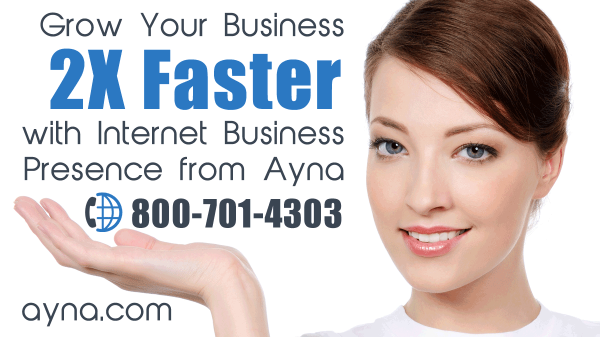 Good News for SMEs
Business owners often doubt the effectiveness of using the Internet when it comes to their own businesses, but did you know that a study by McKinsey Global Institute of 4,800 Small and Medium Businesses (SMEs) in 13 countries suggests that "The Internet is a critical element of growth" and that "the Internet contributed 11% growth in the last five years."
SMEs that have minimal or no Internet presence are not growing as fast and unfortunately to them, they are going out of business as savvy competitors are chipping away at their market share. The McKinsey study goes on by saying "we found that those [SMEs] with strong Web presence grew more than twice as quickly as those that had minimal or no presence, an outcome that holds across sectors." And when it comes to the economy, these SMEs "also created more than twice the number of jobs as others."
So how can SMEs build a strong web presence?
By definition an SME does not have the know-how to build a strong web presence nor the training and skills that go to maintain that presence. Fortunately for SMEs, companies such as Ayna have understood this need and have created services to address them.
Ayna Corporation which was established in 1997, helped companies early on to list businesses on directories and search engines, including its own. As the Internet matured, along with users and shoppers, Ayna observed a sad trend for businesses and service providers. SME wanted to have websites that informed customers and directed them to their brick-and-mortar stores, while service providers were selling hosting solutions. SMEs were asked to "Learn" how to "Design their own site" or hire a developer o make one for them. The reason for having a business site was lost in translation, it became a technical dance and business owners were not learning the steps. About 93% of SMEs abandoned sites developed by designers or sites that they have built using some of the tools available online.
Ayna to The Rescue
Over the years, Ayna has fine-tuned its platform for business, and decided to go one step more and offer everything else that SME needs that was unthinkable in the days of "Hosting" and "Website Designers". Ayna offered professional assistants that did all the work for SMEs to restore the purpose of having a business presence online.
Ayna professional assistants do everything, from setting the website which is accessible from desktops and smartphones, to managing the branding of the business through themes, imagery and content. Ayna professional assistants connect the business to all social media channels and share information on all available channels to maximize the exposure of each of our clients, the assistants translate the business needs of each business owner to online actions.
One of the interesting things that Ayna does is to deliver the same information on multiple channels which is referred to as "Omni-channel presence" where the same information is displayed on the site, search engines, social media (Facebook, Twitter, LinkedIn…) text messaging in countries that allow it, mobile applications, digital signage deployed with the store and the company continues to find channels to share the information with users.
We understand that running a business is tough, and having strong presence help SMEs grow twice as fast as the ones that do not. So our value proposition is simple and complementary we work to manage your presence, brand and communication on the Internet while SME focus on business activities to achieve maximum potential.
Ayna offers several affordable plans to help SMEs create and maintain a strong digital presence online, social media, in-store and more. Ayna Corporation is based in Nashua NH and available online at www.ayna.com Ayna specialists can be reached at 800-701- 4303 in the US & Canada and +961-70-66-54-13 in MENA.